Well when I was looking for a subject for a webpage for a project I wanted something original and interesting to do. Then it came to me...a colouring page! It's free and everyone can enjoy it. Who doesn't enjoy colouring? That's right, nobody! Also mixed in here are a few activity pages, it just keeps getting better.
The pictures are of course black and white. They are mostly GIF format with some being JPG's and should print out on just about any printer even a dot matrix. If you aren't quite sure what to do check out the HELP page for some instructions. Although I'm sure it will just confuse you more.
That's it for now. Check back everynow and then for new pictures. Or if you'd like some more pictures of say Star Wars or G.I. Joe let me know and I'll scan in some more for you! Also if the sizing of the pictures are wrong, like say too small let me know and I'll put a larger size. I'll let you get to work, enjoy.
Currently I have only divided some pictures into categories, but all pictures can be found in one big alphabetical list below.
Have a look around, out off the stuff here there is something for everyone. If just one person enjoys the site, then that's all the matters. There are tons of useless websites out there, I wanted to make that was fun, so enjoy!
Ultimate Muscle, the funniest and best cartoon on TV today! I love it when Kid Muscle wets himself. I'm hoping on adding some new pictures soon, but I'm such a procrastinator that I can't guarantee anything.

I also added a few links, so feel free to check them out.

I've changed "Keith's Pick" a bit too. Before I'd just feature a picture I thought was cool. Now, I'm posting a picture that can only be found in the "Keith's Pick" area and once I post a new pick the old leaves never to be seen again. It maybe a picture from a category like a brand new Star Wars pictures or it might be a picture that doesn't have page on the site. Get it while you can!

keith's pick is Batman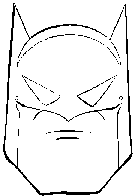 Your very own Batmask 11K